2

locations are found in Canal House
2
Located in our quiet garden, the Garden House can accommodate meetings for up to 10 people and is available all year round. With vintage botanical prints and verdant views, the outdoors are brought inside making it an inspiring space to gather for work or play. Room hire starts from €100 and is inclusive of a whiteboard and stationery. Our delegate packages are available for a minimum of 6 people and include room hire, full catering and stationery.
Prepared in our kitchens and served either in the Garden House or the Great Room as a breakout space, we have a selection of homemade sandwiches, wraps and other light bites.
Perfect for:
Afterparty, Baby Shower, Birthday, Brainstorm, Kids' Party, Meeting, Party, Social/Family Gathering, Team Building, Workshop
20

Size
10
Standing
10

Dining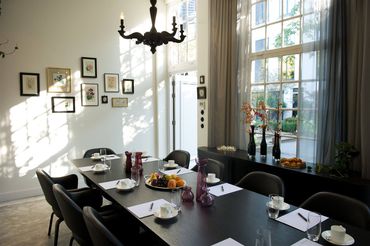 MMousse downtown canal house is a flexible space along one of Amsterdam's most beautiful canals. The multifunctional table, the swing and the high ceilings, truly characterise this location. You decide the functionality of this green, bright urban oasis and with great precision we will adjust the space to suit your needs. This way our space becomes your space. By putting our heads together we will always find the best solutions for your event. If desired, we can arrange the styling, catering or the complete organisation of the event. Or you can choose one of our MMousse packages or a customised Grow session.
One space, many possibilities.
Perfect for:
Afterparty, Birthday, Brainstorm, Brand activation/Experiential Marketing, Ceremony, Conferences, Corporate Event, Debate, Funeral, Gala Nights, Hackathon, Lecture, Meeting, Off-Site, Party, Performance, Photo shoot, Pop-up, Presentation, Receptions, Seminar, Team Building, Training, Video/Film Shoot, Wedding, Workshop
80

Size
30
Standing
25

Sitting
20

Dining
80 /h