2

Cooking Baking locations are found in The Netherlands
2
Spaarndammerdijk 319 , 1014 AA Amsterdam
The Buurtboerderij in the Westerpark is a vibrant center of activity and tranquility, run by clients of De Regenboog Groep and volunteers.
50 ㎡

Size
1

Standing
De Buurtboerderij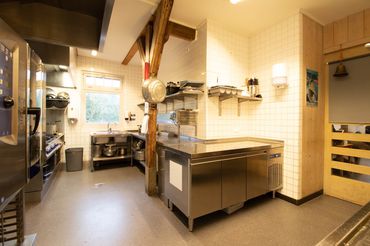 Derde Helmersstraat 30 HS, 1054BH Amsterdam
Looking for an inspiring meeting room in Amsterdam?
Bloom Room is your spot for trainings, meetings and gatherings. Bloom Room is designed to provide a state-of-the-art experience for your rendezvous. A place where ideas will bloom and creativity flourishes.
Bloom Room is centrally located, just a few steps away from Leidseplein, Vondelpark and 'de 9 straatjes'. Decorated with lots of plants, our boardroom offers a luxurious homely appearance. A small oasis, hidden from the fast life of the city, designed to promote creativity and positivity. Bloom together.
€ 100 /hour
75 ㎡

Size
35

Standing
20

Sitting
20

Dining
Bloom Room Amsterdam