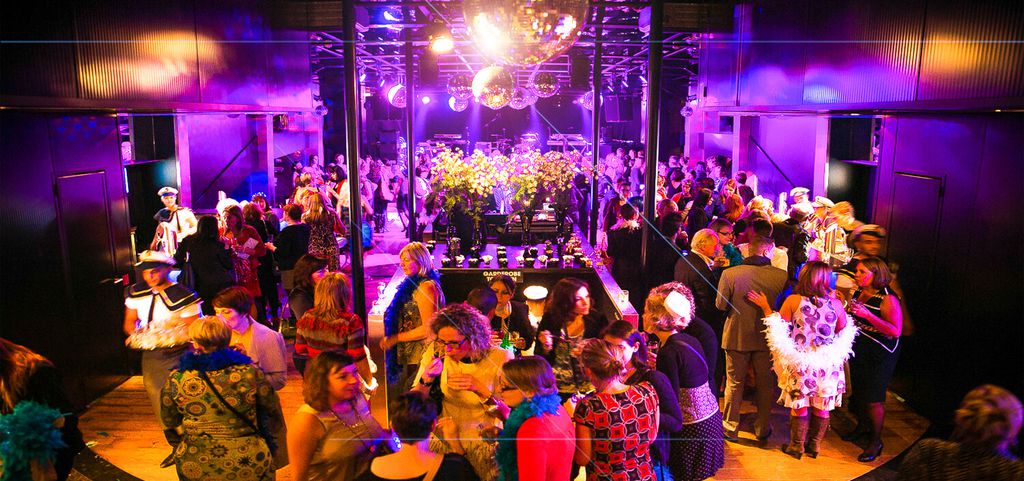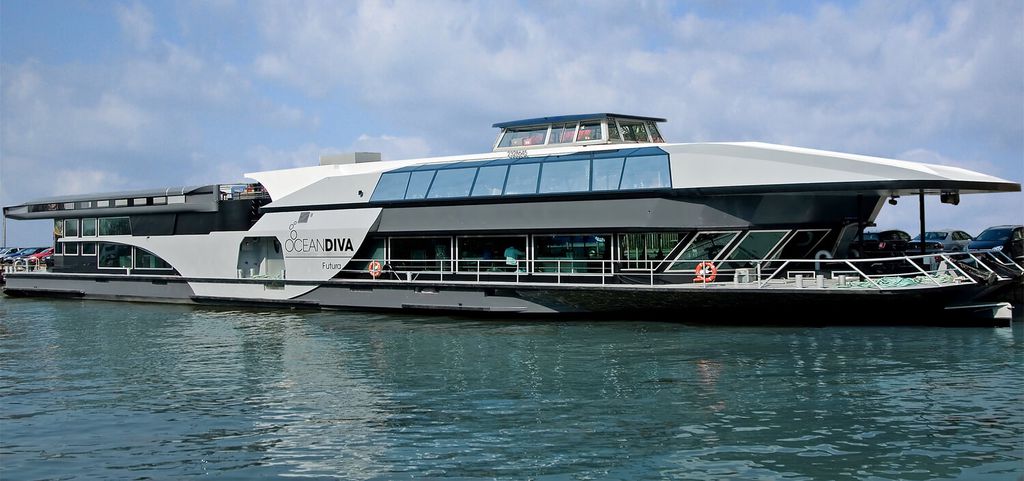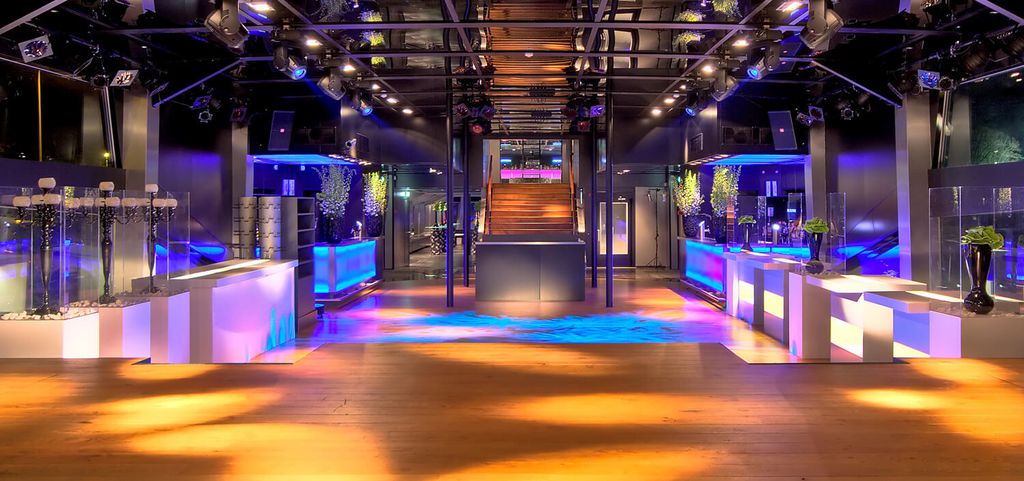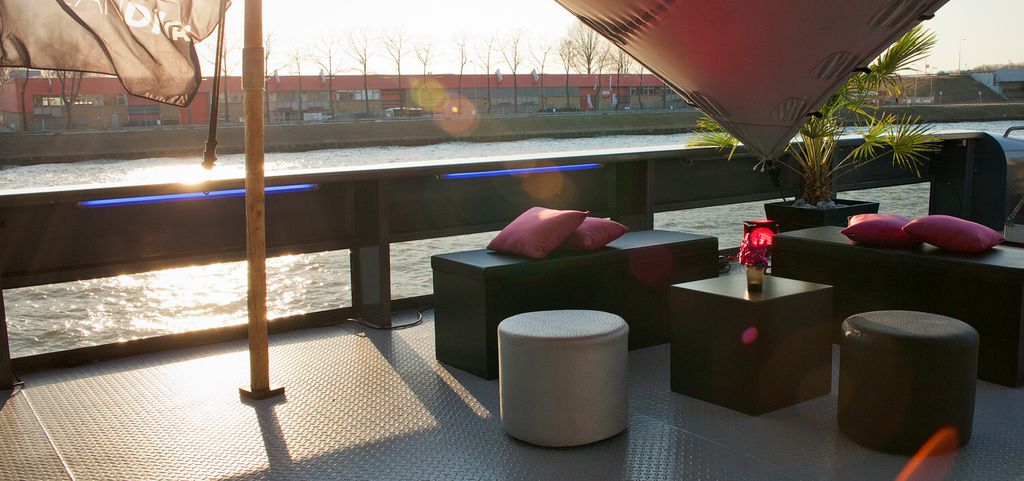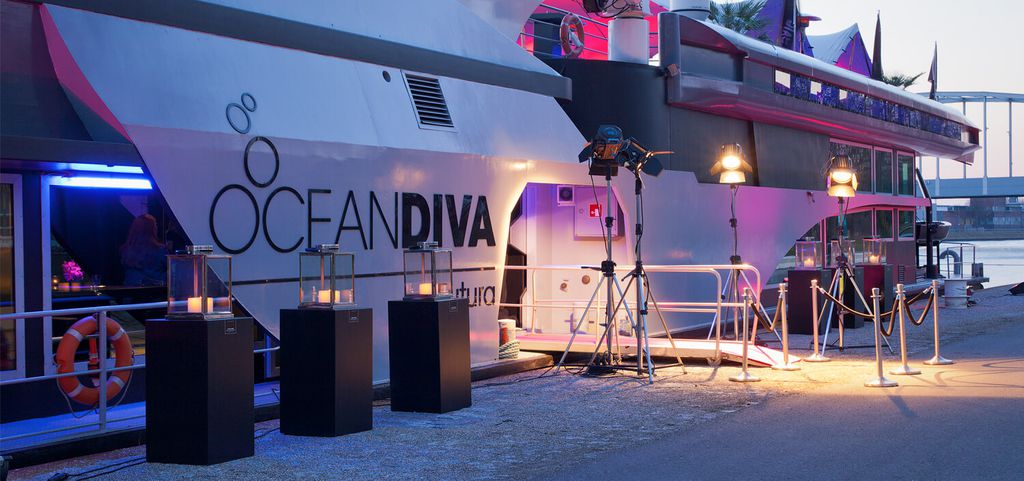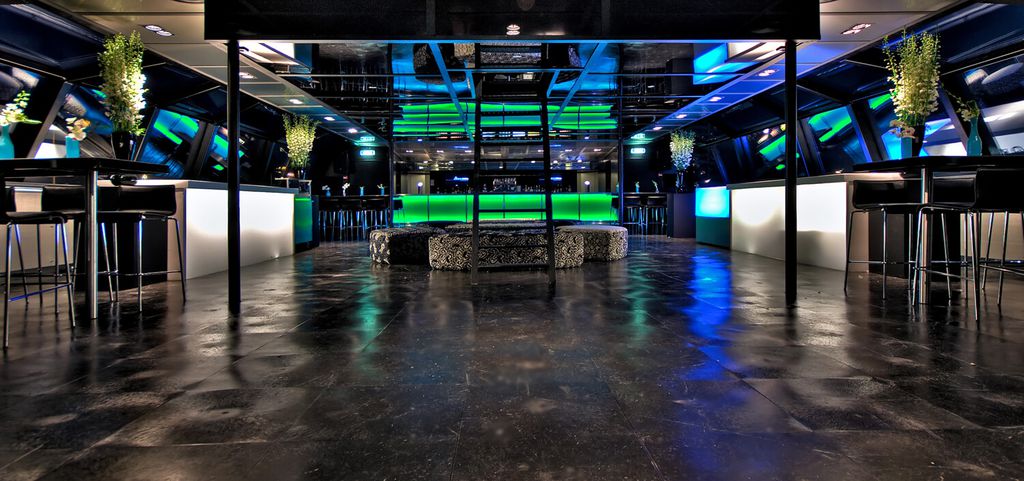 Starting from

€ 550
TT Vasumweg
Highlights
Bring your own food is not allowed
About the space
OCEANDIVA FUTURA is modern, futuristic, stylish and suited for meetings from 75 up to 600 guests.The FUTURA ensures
the right sphere for business and informal meetings and provides three separate rooms: the central room with
panoramic view over the water, a Lounge deck downstairs and a VIP deck. The interior provides LED lighting, flat
screen tvs, designer furniture and a fully equipped light and sound system. Let your thoughts navigate through road
shows, product presentations, corporate events and dinners.
Central area
This 3.75-metre-high space is stylish and large, making it ideal for any occasion. Stand in the centre of the space and you will see a bar equipped with flat screens and LED lighting to your left and your right.An area offering infinite possibilities for your event is located beyond the bars up until the large, permanent show podium. The ship's expansive windows treat your guests to a panoramic view outside. These ensure an extraordinary experience, particularly when the ship is sailing.The wooden floor along with the LED-lit bars and various stylish elements create an intimate ambience.
Lounge deck
Continue walking along the same level until you arrive at the Lounge deck. As you enter you will see a long LED-lit bar with flat screens that can display the branding you desire.This stylish space, which offers an almost 360-degree view of the water, is ideal as an additional sub-area, reception area or dining area.Your guests' on-water experience during your event is enhanced by the deck's large, panoramic windows.
VIP deck
A staircase in the central space takes you directly onto the VIP deck above.The 5.5-metre-high deck offers your guests views of the water and the beautiful skyline to their left and right.The high furniture positioned at both window sides allows your guests to relax and take in the view during a dinner.This space can also be used as a sub-area, reception area or dining area for your event. Positioned lengthwise at the rear is an LED-lit bar with flat screens upon which you can display the branding you desire.
Outside terrace
The outside terrace, with its 360-degree view of the water, offers several surprising possibilities in both summer and winter. It can host a festive reception, a delicious BBQ or a spectacular fireworks show, and even accommodate a trendy ice rink.You can also use it as a covered area to provide additional space during your event or a car presentation.
Branding
The FUTURA can be adapted entirely to match your own brand and look and feel.Adorn the ship with your corporate colours or project your logo onto it. Fly your company flags from our masts, illuminate the LED-lit bars in any colour you desire and display your logo, film or photos on the eight flat screens behind the bars. Make the FUTURA your own and impress your guests.
Suitable for
Afterparty

Brainstorm

Brand activation/Experiential Marketing

Ceremony

Conferences

Corporate Event

Meeting

Off-Site

Party

Performance

Photo shoot

Pop-up

Presentation

Private lunch or dinner

Team Building

Training

Video/Film Shoot

Wedding

Workshop
Facilities
Beamer & screen
Flexible furniture layout
Flipchart
Professional lighting

Professional lighting

Sound System

Sound System

Speakerset
Stage

Stage

WiFi
Accessibility
Family friendly
Pet friendly
Smoking Zone

Smoking Zone

Wheelchair access
Service
Service staff

Service staff

Technician

Technician
Consumption
Alcoholic beverages
In-house catering
Space rules
Downloads
Brochure