2

Photo Shoot, Video Film Shoot locations are found in The Netherlands
2
Docks : 1000AA, Amsterdam
Our tough and multifunctional party ship is also available for business events
Docks is for those who want to organise something unique
150 to 600 people
Large and spacious ship
Gigantic outdoor cover
Fully furnished including equipment
Available throughout the Netherlands and Belgium
Docks is a particularly spacious and wide ship with two modern rooms and a giant outdoor deck. With a total floor area of 900 m², this unique venue offers events for groups of 150 to 600 people.
The rugged ship has various bar facilities, a stage, lounge furniture and a very complete audiovisual installation. These basic facilities are included in the rental price! The rooms can be customized.
The tough appearance with flexible layout makes Docks the ideal event venue for conferences, seminars, master classes, fairs, meetings, dinners and (corporate) parties. An additional advantage is that the ship can be used throughout the Netherlands and Belgium.
Perfect for:
Afterparty, Brainstorm, Brand activation/Experiential Marketing, Ceremony, Conferences, Corporate Event, Meeting, Off-Site, Party, Performance, Photo shoot, Pop-up, Presentation, Private lunch or dinner, Team Building, Training, Video/Film Shoot, Wedding, Workshop
900

Size
600
Standing
150

Sitting
150

Dining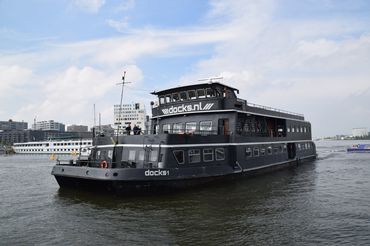 The former industrial plot has been transformed into one of the most unique and sustainable urban developments in Europe. The site, which was in the beginning heavily polluted, is filled with retrofitted houseboats that where taken out of the water and placed around a winding wooden walkway. They are surrounded by an undulating landscape of soil-cleaning plants. De Ceuvel is now an eco-hub for creative and social enterprises. It also includes a public restaurant, Ceuvel Café and a hotel Asile Flottant.
Our desks and chairs allow all kinds of workshop and lecture setups for up to 40 people. We offer all the usual technical facilities such as WiFi, projector / beamer, flip-over, etc. Contact us for more info.
Perfect for:
Afterparty, Brainstorm, Brand activation/Experiential Marketing, Corporate Event, Meeting, Off-Site, Party, Performance, Photo shoot, Pop-up, Presentation, Private lunch or dinner, Team Building, Training, Video/Film Shoot, Workshop
55

Size
50
Standing
50

Sitting
50

Dining