3

locations are found in koken-bakken
3
Looking for a great place to host your next event? Labyrinth might be the space for you.
An eclectic space with a warm and intimate feel, Labyrinth can seat up to 45 people with plenty of room for whatever you might need. Whether you are organizing an off-site team meeting in a neutral space or a workshop where you need space to divide into small groups, Labyrinth might be the place to you.
Hosting weekly open mic Mondays and monthly poetry readings (as well as other events), Labyrinth is set up for all of your audio needs or for a party!
With the artwork of local artists displayed on the deep blue walls, this space inspires creativity and productivity.
Are you looking for a kitchen space to work in? That is also a possibility at Labyrinth.
Perfect for:
Cooking/Baking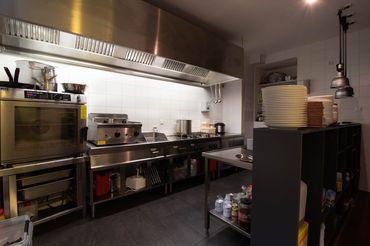 The Buurtboerderij in the Westerpark is a vibrant center of activity and tranquility, run by clients of De Regenboog Groep and volunteers.
Drink coffee in the garden overlooking the sheep meadow.

From Tuesday to Sunday we serve two-course meals at 6.30 pm for € 9.50 per person. Every Friday evening and Sunday afternoon there is (free) live music in our cozy café.
You are welcome to use the kitchen, available only on Mondays. Please contact us first before booking the space. We'd like to know why and how would you like to use the kitchen.
Perfect for:
Cooking/Baking, Workshop
50

Size
1
Standing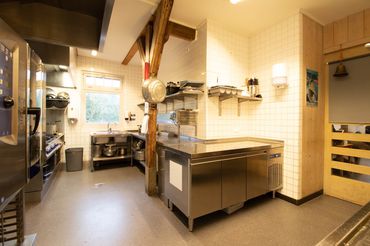 Anything you need can be arranged.
Perfect for:
Afterparty, Baby Shower, Birthday, Brainstorm, Brand activation/Experiential Marketing, Ceremony, Conferences, Cooking/Baking, Corporate Event, Debate, High tea, Kids' Party, Lecture, Meeting, Party, Performance, Photo shoot, Pop-up, Presentation, Private lunch or dinner, Receptions, Seminar, Social/Family Gathering, Sport, Symposia, Team Building, Training, Video/Film Shoot, Wedding, Workshop, Yoga/Meditation
240

Size
40
Standing
25

Sitting
25

Dining